Connections Dialog
Use the Connections dialog to connect to an archive.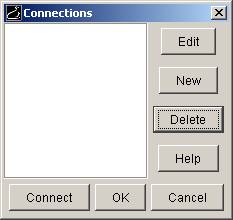 This dialog pops up automatically when you start SourceJammer. You can also open this dialog by selecting Connection | Connect. The first time you start SourceJammer, the dialog will be blank, as you see in the picture above.
The Connections dialog allows you to put together a list of SourceJammer archives that your SourceJammer client knows how to connect to. To connect to an archive, you first have to set up the connection information for that archive.